The following article is a takeover prepared by the students of the class « Sustainable Luxury » (part of the master « New Luxury & Art de Vivre » at Sciences Po, Paris / France) taught by UrbanMeister founder Mirela Orlovic. The students were asked to « Be a consultant for a week": Inspired by circular economy, pick a luxury brand of your choice and develop a circular marketing recommendation.
« Circular is the new black! We need a fashion industry based on three principles: clean, fair and good. » A. Guhl, deputy mayor of Paris, in charge of circular economy
Every year, the fashion industry produces 150 billion garments, 30% of which is never sold. Over the past 15 years, textile production has doubled, due to the development of emerging countries and an increase in sales in mature economies. Meanwhile, since 2000 we can observe a decline in clothing utilisation.
The current fashion system uses an important amount of non-renewable resources and has negative environmental and social impacts. Nowadays, less than 1% of clothing is recycled. The remaining 99% pollute the environment through the use of toxic chemicals, dangerous dyes and synthetic fibres that seep into the water supply and the world's oceans. The weight of plastic microfibers in the ocean could increase to 22 million tons in 2050 under existing production systems. However, textile represents a necessity to all of us.
Is it possible for the fashion industry to take a different path and break this vicious circle? How to reduce negative environmental and societal impacts?
Circular fashion as a solution
Currently, a linear model: « take-make-dispose » is dominating. Clothing production is similar to a chain where the manufacturer extracts a large amount of readily available natural resources and energy, to produce new pieces of clothing, used for a short time and sent to landfill or incinerated afterwards. Circular fashion – is a regenerative system in which clothing can be reused all way around. Products should be kept at their highest value during the use and not be wasted at the end of their life cycles. Instead, we should keep them in a closed-loop by recycling them. The circular model suggests that each piece of clothing should be manufactured in a reusable way. Thus, not only the environment will get long-term benefits from this change but also the economy, citizens and our society as a whole.
As sustainability became a hot topic, more and more high-end luxury brands try to find solutions and improve their business model. Hermès is not an exception, in 2010 the brand launched Petit H division that gives a second life to the leftover materials. It shows the willingness of the brand to move in the direction of a more sustainable model and represents the first step towards a circularity, with zero wastage production cycle. We believe that Hermès can go even further in its ambition to become a sustainable luxury brand by adopting new textile economy methods. This process is very complex and requires a high level of collaboration and partnerships across the brand's value chain.
Ambitions for a new textile economy
The circular model relies on four main ambitions that can be turned into different solutions that Hermès can apply to its business model. The brand should phase out substances of concern and microfibre release.
Materials can be divided into two groups: technical and biological. Technical materials are manufactured by humans, such as nylon, polyester, they can be reused only if are optimally recycled. Meanwhile, biological materials come from renewable resources and decompose easily without negative impact. Although Hermès uses in majority biological materials in its ready to wear collections, the brand can invest itself into regenerative farming.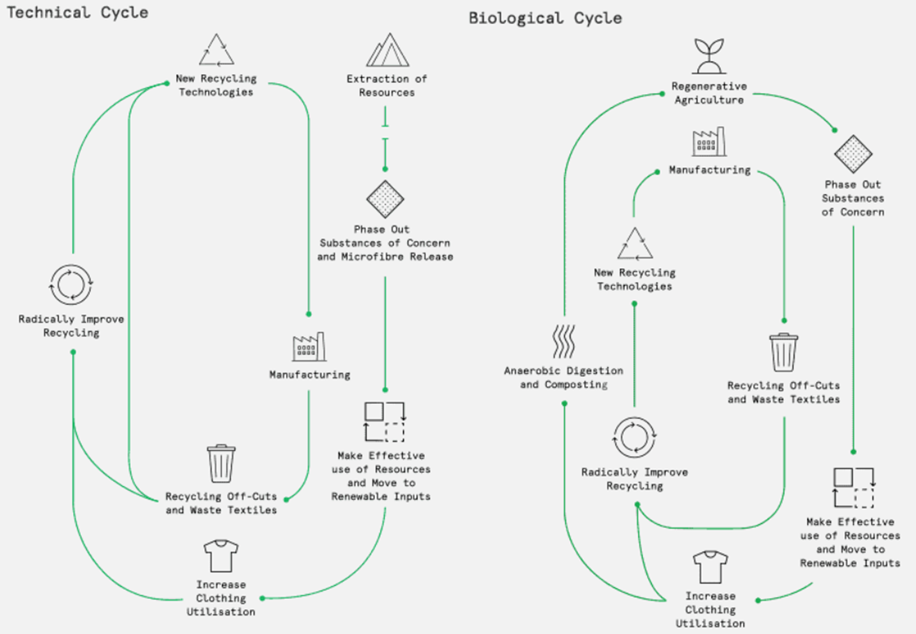 Regenerative farming & materials innovations
Hermès can switch to organic cotton for their future ready-to-wear collections that are currently made of regular cotton.
Moreover, the brand should be using less virgin cashmere and switch to the re-engineered cashmere that has the same features and a less harmful impact on our planet.
One of the main emblematic products of the brand Le Carré Hermès is made of silk from Lyon. Hermès cannot stop producing its scarves in this type of silk as there is a risk to lose their loyal customers. Thus, brand can offer a capsule vegan silk Carré collection, made of synthetic spider silk. Hermès can do a partnership with a biotechnological company that creates a vegan silk, made of yeast, DNA and sugar. This method has a lower negative environmental impact than the traditional silk. However, vegan silk has similar remarkable properties, such as softness, strength and durability.
Finally, Hermès uses large amount of leather in their bags, shoes and ready-to-wear items, although it has heavy greenhouse emissions related to animal rearing. Hermès can start a partnership with the French brand Fémer. This company is based in Arcachon Basin and promotes circular fashion by manufacturing fish leather. It is a natural, cruelty-free material that has a high social responsibility. Moreover, the tanning agents of this leather are vegetable and natural. Hermès collaboration with Fémer can help them to build an ethical supply chain and promote 100% "made in France" label.
The transition to the circular economy is very complex and will require collaborations across the brand value chain.
Partnerships
To increase clothing utilisation Hermès can do a partnership with an authenticated luxury consignment such as The RealReal. Stella McCartney, Burberry became official partners with this platform. It helps to increase clothing utilisation and avoid that brand's items turn into waste.
To ensure the traceability and transparency of the supply chain Hermès can sign partnerships with blockchain platforms, such as Arianee, that already collaborates with major luxury groups like LVMH.
Recommendations for Petit H
In spite of Hermès' noticeable environmental engagement through the creation of Petit H, the collection may still be enhanced. Firstly, Petit H can radically improve its recycling loop, notably its sustainable design. To decrease the negative impact to the environment during production, circular design is needed to better foresee and address the unintended consequences of design decision. "By re-thinking and re-designing, we can accelerate the transition to a new model that doesn't just 'eke out resources a bit longer,' but is restorative and regenerative by design," said the founder of Ellen Macarthur Foundation, Ellen Macarthur.
Secondly, Petit H remains a very small part of the brand and has a very limited offer of items despite the huge consumption of leather by Hermès. This implies that only a small number of leftovers are recycled. We recommend Hermès to use its raw material more efficiently by extending its range of small accessories as it requires fewer resources and various colors can be developed easily. Another suggestion would be holding regular DIY workshop sessions with the remains of good quality leather or even slightly defective leather to demonstrate how to make simple Hermès items. This could be a fun and educational opportunity for those who are interested in the brand or DIY.
Besides, Hermès doesn't communicate on the energy consumption of Petit H, which belongs to the distribution part in the circular economy. The lack of information makes it difficult to know whether the house has dedicated itself to the issue. To improve the transparency, Hermès is advised to collaborate with its partners of the supply chain to trace the carbon footprint during the delivery and even conduct a life-cycle analysis to understand more precisely which step can be enhanced. For instance, Hermès could better calculate the CO2 emissions generated from shipping by tracing the number of orders from its retail channels.
Towards a bright future
Apart from improvement recommended for Petit H, Hermès could take more radical measures to go further in sustainability. With advanced ecological commitment, not only will it benefit from the boosted resource efficiency, but will also create a socially responsible brand image for consumers. Nowadays, millennials highly value a brand's sustainable performance when making purchasing choices. If Hermès manages to make itself a more sustainable brand, it would be able to rejuvenate its customer base by attracting more millennial customers engaged in eco-friendly practices.
To begin with, replacing current material with recycled one to produce its iconic orange box and paper bag marks a symbolic first move to demonstrate its ambition in ecology.
Also, a new sustainable and relatively cheap product line opens another customer segment for the brand. The new launch of rechargeable lipstick (the lipsticks are $67 while each refill is $42) in 2020 has successfully created a buzz on social media, drawing young consumers' attention. This new step in the sustainable cosmetics shows Hermès' smart strategy to increase both sales and popularity among millennials.
Meanwhile, luxury brands have always embraced an element of mystique, posing an obstacle for sustainable development where transparency is inevitable for information disclosure. According to Mckinsey, some 42 percent of millennials say they want to know what goes into products and how they are made before they buy, compared with 37 percent of Gen Z. Thus, luxury brands shall not worry transparency would jeopardize their brand images; instead, it could win millennials' and Gen Z consumers' hearts. A feasible practice is the EP&L implemented by Kering. Hermès could firstly learn from this application in another giant and gradually figure out its own path towards sustainability.
Nevertheless, the challenge has not ended yet. The crocodile controversy in 2015 uncovered the scarce leather dependency problem inside the house. Though Hermès eventually promised to cease any relation should the slaughterhouse not respect the brand's procedure, the usage of leather didn't end there. This high-end brand has long relied on scarce leather products to satisfy its demanding customers. A revolutionary business model is needed if it seeks to alternate its current business model.
Sources