The following article is a takeover prepared by the students of the class « Sustainable Luxury » (part of the master « New Luxury & Art de Vivre » at Sciences Po, Paris / France) taught by UrbanMeister founder Mirela Orlovic. The students were asked to « Be a consultant for a week": Inspired by circular economy, pick a luxury brand of your choice and develop a circular marketing recommendation.
Plastic production has exploded since the second half of the 20th century, going from 1.5 million tonnes in 1950 to 335 million in 2016. It is estimated that only 9% of the 8.3 billion tonnes ever produced by mankind has been recycled. Slightly more (13%) was incinerated, not without causing air pollution problems. The rest of this waste is stored in landfills, in drains, or in nature. A real environmental disaster considering that plastic takes more than four centuries to fully degrade… The ocean is the natural environment most sensitive to plastic pollution. The runoff and the wind explain the fact that a large part of the plastic waste from the land ends up in the sea. According to a study published in 2015 by the Australian National Science Agency, 99% of marine animals will have eaten plastic by 2050.
Plastic is used today in all fields, but the cosmetics industry has a real role to play in reducing plastic packaging: « The luxury cosmetics industry is based on an excess of packaging« , said Arnaud Meysselle, managing director of Ren Clean Skincare. Furthermore, this pollution is not always visible: we all have the image of this turtle with a straw stuck up in the nose, but plastic pollution also takes the form of microparticles, then ingested by marine animals. Packaging is not the only threat for the environment when it comes to plastic waste: plastic is used in the composition of certain cosmetics as a thickener and brands love it because it is cheap.
Moreover, it is important to note that plastic is not only harmful to the environment. It is also for our health, and has a direct impact when it is present in the products which we then apply to our skin. Why? Because they can include endocrine disruptors which are compounds potentially harmful to the organism and human health. They act by imitating and modifying the metabolism of natural hormones and are suspected of inducing serious pathologies. It is a problem that brands should address using alternative ingredients as we will see later. However, this article focuses on the impact cosmetics have on the environment.
What is a circular economy?
To reduce the impact of plastic on the environment and therefore on our health, companies are slowly transforming their offers. One of the solutions is the adoption of the circular economy. Circular economy refers to an economic model whose objective is to produce goods and services in a sustainable manner. It aims to break with the model of the linear economy (extracting, manufacturing, consuming, throwing away) for a « circular » economic model. Such an economy works in a loop, thus dispensing with the notion of « waste ». Its goal is to produce goods and services while greatly limiting the consumption and waste of raw materials and non-renewable energy sources.
Circular economy in the cosmetic industry
Design thinking. Beauty companies should adopt an eco conception focus such as Cradle-to-Cradle (C2C) when developing their products in order to create a positive impact. An overhaul of « system thinking » is required to tackle the sustainability issues the industry is facing, such as plastic pollution, greenhouse gas emission, biodiversity loss and chemical impacts.
Packaging. The first thing that comes to mind when thinking about sustainable improvement in the cosmetic industry is responsible packaging. Future developments in cosmetic packaging must feed into the circular economy. With the growing awareness of consumers toward environmental issues, companies are innovating to offer green alternatives to plastics.
Waste. Beyond the development of plastic alternatives the beauty sector also has to make an effort on improving recycling capabilities according to Aude Charbonneaux, sustainability manager at Albéa Group. This represents a big challenge for the industry since cosmetics and personal care products are a major contributor to packaging waste : it is estimated that over 8 million tonnes of plastics enter the ocean each year.
Green formula. Innovation has a role to play in order to replace synthetic chemicals in formulating. Researchers have developed green alternatives to silicones, petrolatums and lanolin. Food byproducts are becoming recognized as a rich source of cosmetic ingredients, thus enabling companies to use up-cycled ingredients in their formula.
While taking advantage of all the innovations to offer greener products, companies always have to consider the changes and ponder if the new solutions are better or worse than before. Indeed the use of alternative ingredients can bring sustainability issues, such as integrity of supply, traceability and transparency. Companies should remain focused on improving their product's life cycle analysis to collect more data and analysis in order to efficiently decrease their ecological and social impact. Overall, it is important to remember that all efforts from the beauty industry have to be collective and aligned.
Consumers also have a role to play !
Considerable investment is going into the cosmetics industry to make sustainable products and reduce packaging impacts. However without responsible consumption, these measures will have little effect on the overall environmental footprint of cosmetic products. Numerous life cycle analysis show that the highest environmental impact of cosmetics products reside at the consumer level. For instance, as shown by a study, 94% of the carbon footprint of a shampoo is at the consumer level : small changes in water temperature during an average wash can significantly reduce the overall environmental impact of the product.

Cosmetic companies need to engage consumers for positive change if they are to make a sustainable difference. Usage instruction on the product can guide the consumer toward a sustainable consumption. Social media in particular improves transparency and encourages two-way dialogue between brands and consumers.
The major challenge in going green for the cosmetic industry is to educate consumers on responsible consumption patterns and encourage them to lead a sustainable lifestyle. The adoption of a minimalistic lifestyle in particular is key to help reduce the industry's environmental impact.
What are the big groups doing?
In broader terms, leading groups and key players of the cosmetics industry have increased their sustainability efforts in an attempt to reconcile the typically dichotomous notions of luxury and responsibility, and set an example for the rest of the industry. As illustrated, by L'Oréal and Shiseido amongst others, developing luxurious beauty products that combine aesthetics and ethics is not only possible, but is the way forward. With the notion of "less is more", luxury brands now face the challenge of creating a new value proposition that embodies both elements of excellence, desirability, pleasure and emotion at the core of luxury as well as responsibility, eco-design, ethics and transparency which are necessary for the long-term durability of business and the environment. So, how are the big players in luxury cosmetics managing these tensions?
Taking the example of L'Oréal, it has become evident that the key to responsible management considers the entirety of the company's value chain, integrating circular economy networks wherever it operates and creating industrial synergies with other players in the area. As part of L'Oréal's sustainability programme, Sharing Beauty with All, launched in 2013, the group has set itself a series of tangible commitments for 2020, including a rigorous monitoring and reporting policy. Aligned with the UN Sustainable Development Goals, the company is undergoing a deep structural transformation in order to transition to a low-carbon business model. For example, given that 50% of L'Oréal products' environmental footprint is linked to packaging, the company has taken a disruptive approach regarding this aspect in particular. Taking into consideration eco-design and end-of-life, the company has set to solely produce refillable, rechargeable, recyclable or compostable plastic packaging by 2025, of which 50% of these will already be bio-sourced or made from recycled materials.
Moreover, Shiseido, who strives "to be the most trusted beauty company in the world", in the eyes of all of its stakeholders, seeks to protect beauty, both that of the customer as well as the environment. Their beauty innovations go back as far as 1926, when the company launched its first refillable products. Since then, they have been actively seeking ways to improve their environmentally-friendly packaging through the use of recyclable PET bottles and biomass containers among others, becoming the first Japanese company to join the Sustainable Packaging Initiative for CosmEtics (SPICE) in 2018. Similarly to L'Oréal, Shiseido has set to fully convert to recyclable plastic packaging by 2025. Furthermore, the brand's strict ingredient policy focuses on safety and transparency to create formulas with sensitivity and consideration for the environment, as well as an ethical attitude.
What is La Mer doing?
Overall, La Mer channels their corporate responsibility through their foundation, La Mer Blue Heart Oceans Fund, launched in 2017 and funded by the funds raised in the sales of the Blue Heart Limited Edition cream. Through awareness-raising initiatives and supporting marine preservation projects, the brand's environmental conscience is centered on saving the ocean.
At a glance, the brand does not appear to be as sustainably-committed, in terms of products and packaging, as their competitors, albeit being very active in third-party projects unrelated to skincare. It is important to note however, that the brand's "miracle ingredient", sustainably harvested sea kelp, is an ethically-sourced and traceable ingredient. Nevertheless, we believe that La Mer could make a larger effort in taking a step forward in their journey towards sustainability by focusing on the consequences of their direct business operations, namely in finding innovative alternatives for their packaging, keeping a circular economy business model in mind. Below are some recommendations, with a focus on skincare as it is La Mer's core business:
Packaging Innovation
Efforts can also be made at the packaging level to include it in a circular economy. One of the possible options in the luxury cosmetics industry is the use of refillable bottles. Consumers can keep their bottle and refill it as many times as they want. This solution allows a tremendous reduction of waste. In addition, glass is an infinitely recyclable material, unlike plastic. However, only transparent glass with easily removable tags are recyclable. It is important to notice that this option is more suited to the luxury industry, in which consumers change products less often.
Refillable bottles have the advantage of allowing luxury brands to keep control over their image with a high visual standing. However, it presents several limits. It is firstly more expensive to produce, but the cost can be amortized on the long run because less bottles will be produced. Another limit is that glass is heavier, so its carbon footprint is higher than plastic when it comes to transportation. Two solutions are possible: lightening the products by refining the glass and getting factories closer to the distribution points. In the case of La Mer, an option to overcome this issue could be to recycle the glass collected in their ocean clean-ups, making an interesting link between their core brand value and their products. An alternative material that La Mer could use to fabricate its refillable bottles is bio-based PET. Owing to its biomass properties, this material is fully recyclable, biodegradable and compostable, therefore proving to be a very suitable product to leverage the environmental degradation caused by packaging. Indeed, this option has proved to be very popular among conscious brands within the cosmetics industry as previously mentioned, even if the production of this material comes at a higher price.
Last but not least, the gifting culture is an important point to take into account: how to keep this business running while maintaining the sustainability of the products? In reality, it would be possible to buy refills separately, with a system that also respects the environment, as we will see later. In addition, the introduction of gift cards or vouchers can allow customers to offer a free refill to the person to whom they wish to make a gift. It also reduces the chance of getting it wrong by buying the wrong cream for the person.
Sustainability without compromising beauty
Environmentally friendly and innovative ideas should not come at the cost of the brand's aesthetic appeal. Keeping in mind the large culture of gifting in particular, luxury cosmetic brands such as La Mer should maintain their level of quality and excellence in order to justify the high price points but also to remain desirable to consumers. Therefore, we believe that every aspect of this journey towards sustainability, including the design of the refills as well as the refillable bottles, should be luxurious. For example, refills could be made from recycled paper pulp; a resilient material that can easily be disposed of by the end-user, while being highly malleable and shaped to fit different containers. In terms of the refillable bottles, cosmetic brands could partner with artists to design special edition bottles with beautiful designs that can equally be upcycled for different uses.
Product Innovation
Beauty suppliers and manufacturers are taking a step forward in circularity. While the greatest impact to reduce waste, recycling and reusing materials can be done through eco-design and disruptive packaging, the formula of the cosmetic itself can also make a huge difference. As we previously mentioned, La Mer's key ingredient is ethically sourced, similarly to many of the leading luxury brands. Changing the products' composition to focus on natural ingredients can take this effort further by significantly reducing the negative impacts on both our bodies and the environment. La Mer can rely on the expertise of many companies which have been working on alternatives to free cosmetics from toxic elements. To cite a few, EFP Biotek has developed vegetable alternatives to silicones, petrolatums and lanolin and DuPont has created a nature derived preservative in order to replace the traditional ones.
However, we believe that the next step towards achieving circularity is to reduce the amount of cosmetics – and consequently the carbon footprint created throughout the product's life-cycle – the consumer uses. Having said this, it would be interesting for cosmetics brands to push on the element of personalisation of skincare, with the aim to create a single cream that meets the individual demands of a consumer's skin.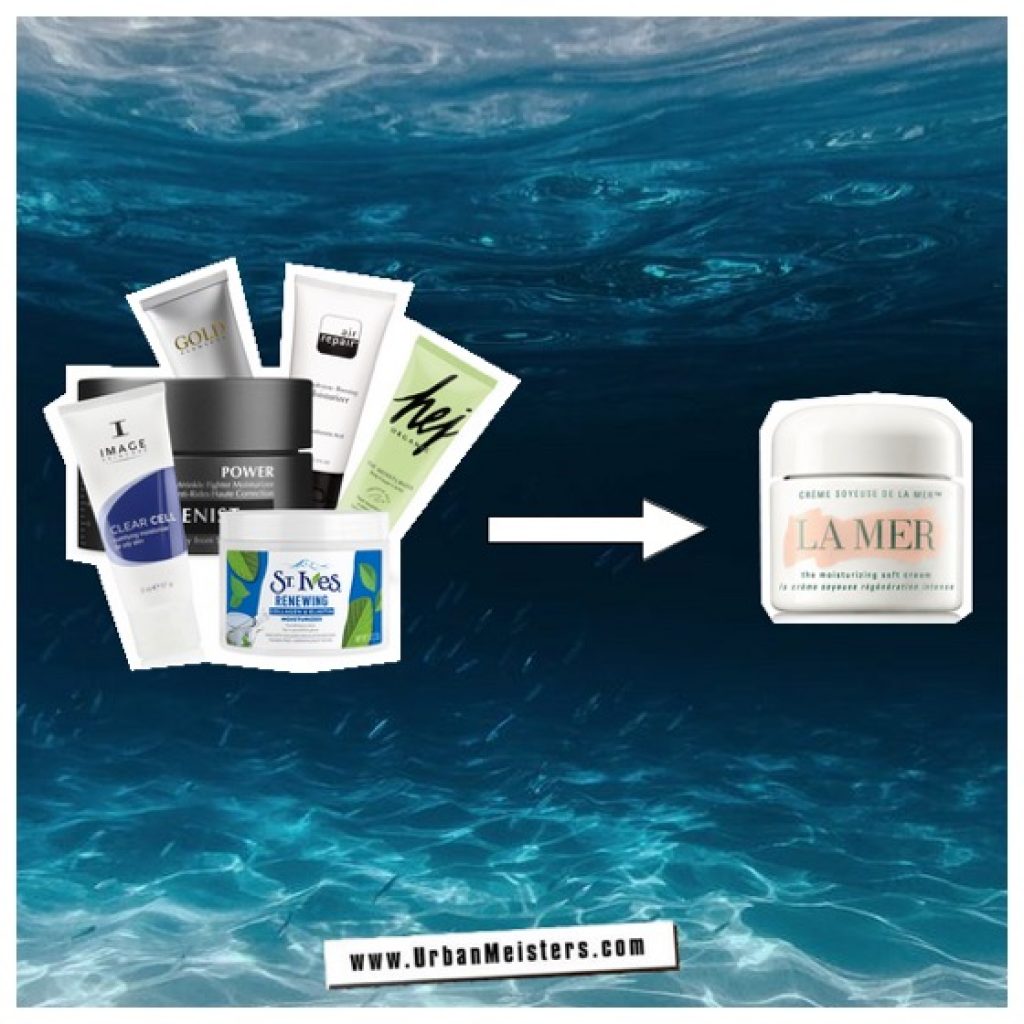 Consequently, not only will this reduce the amount of products being consumed and rinsed into the ocean but would also limit the amount of packaging required, ultimately being a suitable skincare product for the refill packaging recommendation proposed above. In accordance with the sustainable focus of this product and taking advantage of the limited production of each cream, La Mer could use this opportunity to get familiarized with the use of circular ingredients in their formula. As food byproducts or side streams are becoming recognized as a rich source of cosmetic ingredients, La Mer could integrate this kind of upcycled elements into its products' formula.
Conclusion
In response to an increasing ecological awareness, initiatives are emerging for less polluting beauty products. However, these initiatives are not yet widespread enough. Changes in the offers of luxury cosmetic brands need to be done, and they will greatly depend on the necessary change in consumer habits.
The implementation of a circular economy is a real solution that companies should consider nowadays. And it is definitively applicable to the cosmetic industry through the transformation of products and packaging towards greener options. Major cosmetic brands [like La Mer] can be real leaders in raising ecological awareness. The transformation of production methods in a circular way can become more and more sustainable and respect the environment and the people. And don't forget that everyone can do its bit, small actions make big changes!
Sources
http://www.cosmeticsdesign-europe.com/Article/2020/03/03/Circular-cosmetics-need-responsible-sustainable-packaging-says-Albea-Group
http://www.sustainablecosmeticssummit.com
http://www.vitagora.com/blog/2019/emballages-ecoconception-agroalimentaire/
http://www.lexpress.fr/styles/beaute/peut-on-liberer-les-cosmetiques-du-plastique_2043923.html
http://www.novethic.fr/actualite/environnement/pollution/isr-rse/danger-plastique-les-chiffres-chocs-de-ce-fleau-planetaire-146770.html
de-ce-fleau-planetaire-146770.html
http://loreal-dam-front-corp-en-cdn.damdy.com/ressources/afile/178943-24f07-resource_pdf-sbwa-progress-report-en.pdf
http://corp.shiseido.com/en/sustainability/env/action3.html